KingdomTaurusNews.com – Mobile Legends kembali meluncurkan hero baru dari role Assassin bernama Ling Mobile Legends, hero ini sangat lincah bahkan menandingi Fanny, dengan kabelnya.
Ling ( Cyan Finch ) Mobile Legends, dengan spesialitas burst damage/reap, yang bisa berjalan dinding serta berpindah tempat antar dinding. Mirip seperti Fanny tapi Ling bisa berjalan berjalan di dinding dan membuatnya lincah sekali.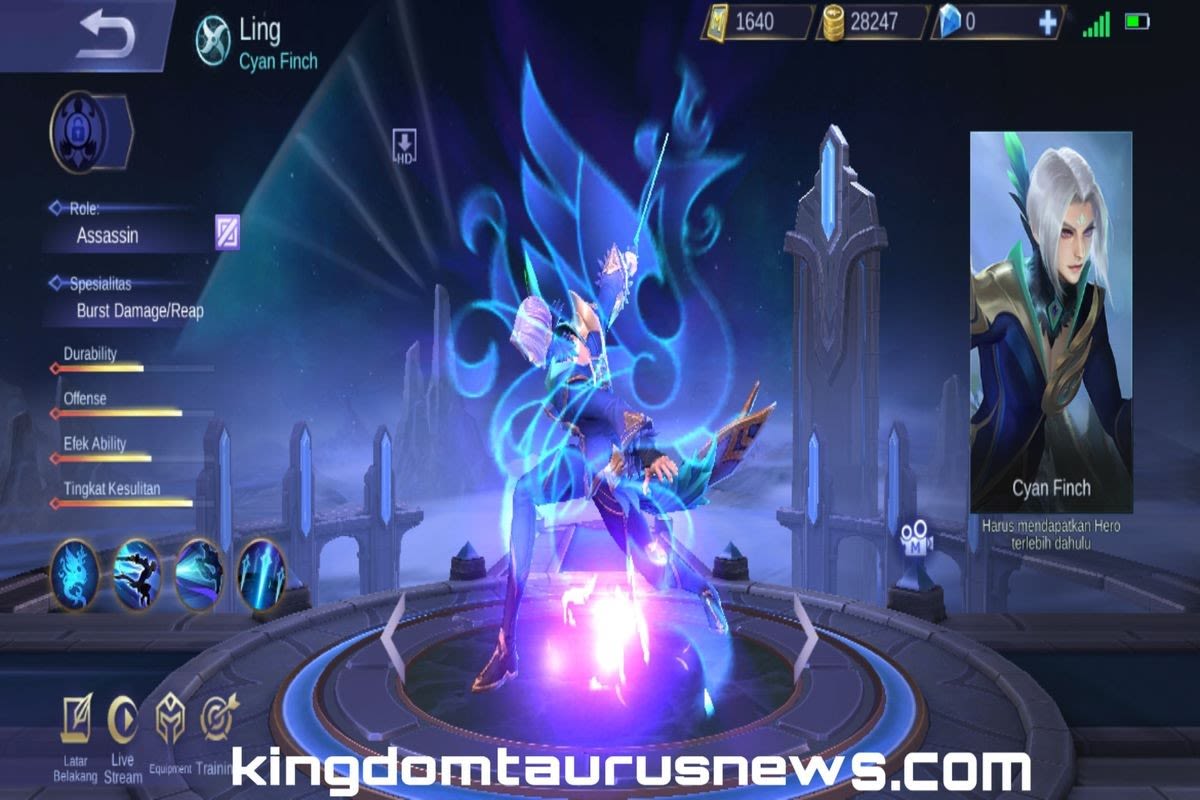 Skill hero Ling Mobile Legends
Skill Pasif ( Cloud Walker )
Skill Lightness Ling yang luar biasa membantunya melompat dari dinding ke dinding. Ketika berada di atas dinding, Ling memulihkan 2 Lightness Point per detik. Setiap kali Ling memberikan Damage kepada lawan, dia akan memulihkan 5 Lightness Point. Skill Lightness Ling memberikan 20% Critical Chance namun mengurangi Critical Damage sebesar 40%.
Ling menggunakan Qinggong-nya (Skill Lightness), melompat ke dinding menuju arah dinding yang ditentukan memasuki Camouflage State dan memulihkan Lightness Point dengan lebih cepat. Saat Ling menerima Damage ia akan keluar dari Camouflaged State. Jika ia terkena Crowd control ia akan jatuh ke tanah. Ketika menggunakan skill ini untuk melompat dari satu dinding ke dinding lainnya, Cooldown dari skill ini akan di refresh dan juga merefresh Camouflage State.
Skill 2 ( Defiant Sword )
Ling menyerang ke arah yang telah ditentukan dan menusuk lawan terdekat ditujuannya, memberikan 135(+65 % Total Physical ATK) Damage. Jika Ling melepaskan skill ini ketika ia berada di dinding, dia akan melakukan dash ke tempat yang telah ditentukan di tanah, memberikan 135(+65% Total Physical ATK) Damage kepada lawan dalam area kecil dan menyebabkan efek Slow kepada mereka sebesar 30% selama 1,5 detik. Jika serangan ini memberikan Critical Damage, lawan yang berada di dalam area tersebut akan terkena efek Slow tambahan sebesar 45% selama 0,75 detik. Defiant Sword, dapat memicu efek attack sebagai Basic Attack dan dapat memulihkan 25HP untuk Ling setiap kali mengenai lawan.
Skill Ultimate ( Tempest of Blades )
Ling melompat dan menggunakan Skill pedangnya yang luar biasa selama 2.5 detik, di mana ia menjadi Invincible dan dapat bergerak dengan bebas, memberikan 250(+200 %Total Physical ATK) Damage kepada lawan yang berada di dalam area efek, menyebabkan efek Knock-Up kepada lawan yang berada di tengah area selama 1 detik, dan menciptakan sebuah Sword Field yang berlangsung selama 5 detik. Pada ujung dari Sword Field, akan terdapat 4 Field Eyes Tempest of Blades. Dengan menyentuh Field Eyes, Ling dapat me-Reset CD Defiant Sword dan memulihkan 5 Lightness Point.
Bagaimana Pendapat Anda ?